Requirement analysis, project planning, features and functionalities, formation of core project implementation team, testing and installing are all very important factors to be considered while implementing an ERP system. Apart from the above, managing change is very important especially, when the complete business process undergoes restructuring. At this juncture, education and training about the ERP system and its functionalities is very important.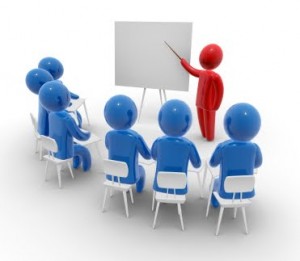 According to Gartner research companies that spent 17 to 20 percent of their total budget (allocated for ERP implementation project) have successfully met their ERP goals (Heske, Gartner Consulting).For enhanced productivity, quick improvement in business process efficiency and smooth transition of roles, it is important to impart proper training to the employees at all levels of the organization. Here are five points to ponder while managing change across the organization.
[1] A detailed curriculum is to be formulated to educate the employees about the change in different business processes. Chosen candidates across all departments need to be trained and tested first before they can proceed to train the employees. Mr. Pradeep Khetan from Institute of Manufacturing Resource Management of India (IMRMI) explains why it is important to develop a detailed curriculum.
With ERP all business functions will use the same set of data and information in a single integrated system that will affect each other in many inconvenient ways. Therefore, it is a must that users from each business function understand how they will be affected by others. In short, the education and training must not only be broader but also integrative.
[2] Training resources like presentations, 'how-to' documents, flash demos, e-learning videos and web based training modules could be very useful to train employees at all levels, especially when they are frequent travelers. This helps them learn themselves whenever they find time amidst their busy schedule. ERP vendors like Ramco systems provide demo videos and web based training modules to the clients to make their life easier.
[3] Real-time Training & Testing is another trending methodology that enables employees to get hands-on experience while doing their routine work. Instead of spending productive hours on classroom training sessions, trainers of the particular department demonstrate various functionalities at the shop floor or at the administrative office itself. This way, the trainer could evaluate their comfort level in utilizing the ERP system.
[4] Resistance to change is irresistible, especially when there is a change in employee roles or responsibilities. Most people feel very much comfortable with the old processes and it takes a little bit of effort to train them to adapt to the new system. This is a common challenge for trainers while managing change. With significant effort and proper planning, resistance from employees can be dealt effectively.
[5] Internal marketing about the ERP system is necessary to communicate about changes in business processes to the employees. Fliers, emails, newsletters, posters or banners at prominent locations and departmental meetings are some of the effective ways to communicate about the ERP project and keep them updated. It is very important to positively emphasize about change that is happening in the organization and the importance of adapting to change.
Leading ERP vendors will always be willing to help their clients manage change. They will also be happy to share their expertise to ensure smooth transition to the new business process.