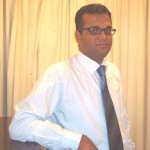 Ashish Gupta -Â Senior Business Analyst - Health & Public Services
Ramco is the first stop in my professional journey. I have been with Ramco since Feb, 2007 and started working here immediately after finishing my MBA (Marketing & IT) from Indian Institute of Telecom & Management, Pune. Prior to that, I did my engineering in Electronics & Communication from Jaipur University. At Ramco, I had the good fortune of working in various roles across domains and serving clients across the globe.
Currently, I am working in the capacity of a Senior Business Analyst in E- governance vertical. I have been involved across all stages of SDLC with specific focus on feasibility study, requirement elicitation, business process re-engineering & implementation.
At Ramco I was provided an environment where I could learn new skills and enhance my professional abilities.Working face to face with clients in South Africa helped me improve my client management skills. Also, these opportunities helped me a lot in increasing my personal and professional effectiveness. My interests include ERP consulting, customer engagement and keeping myself updated with latest technology trends.