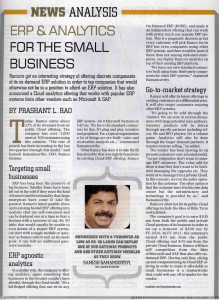 Did you know that today, we have over 3000 users through 300 customers powered by Ramco OnDemand ERP? And we have broken the conventional barriers and made ERP available to all kinds of businesses – big and small alike!
Express Computer magazine featured an article on Ramco OnDemand ERP and Analytics Products on the cloud with some quips from our COO, Mr. Kamesh Ramamoorthy. Through the article, author Prashant L. Rao says "Ramco's got an interesting strategy of offering discrete components of its on-demand ERP solution in order to tap companies that would otherwise not be in a position to afford an ERP solution."
Click the image to read the complete article.
Ramco OnDemand ERP can free you from the shackles of a conventional ERP, and is flexible, scalable, simple and extremely secure. It offers all the functionalities of legacy ERPs minus the hassles. Unbelievable?
To know more about Ramco OnDemand ERP, visit www.ramcoondemand.com