At any given time, a typical enterprise will have anywhere between two to five projects on the floor. Nowhere is this more apparent than in an enterprise that is committed to continuous improvement.
Organizations undertake a project to move with changing times. They may be looking at improved productivity or adapting to the changing dynamics of business. A project can be any proposal to change something or implement something new that will require staff, customers or suppliers to behave or react differently. Some means of bringing about this change is through order processing, newsletters, discount policies, commissioning new machinery etc.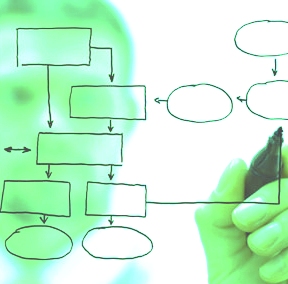 A project plan has to be effective enough to streamline a project and help it achieve the goals it has set out to do. Here is a look at 5 simple ways in which this can be handled, irrespective of the kind of enterprise project you are looking at.
Step 1: Setting the base for the Project
This step ensures that the project has a good base on which to establish itself. Some of the tasks that will fall in its ambit are
Identifying project goals and objectives
Arranging sponsorships
Setting up the project team, a leader and roles and responsibilities of individuals
Detailing project stages, timelines, tools required and measuring metrics
Imparting skills / domain training as required.
Step 2: Identifying the problem and diagnosis
Once you have identified the problem, you should be able to share this information with everyone on the team and give them an educated understanding of the cause of the problem and how things should be worked out. What you can expect here are tasks like
Root cause analysis (RCA)
Establishing vital few issues vs. trivial many.
Prioritizing the vital issues and discussing about ways to tackle it.
Step 3: Coming up with the appropriate solutions
With the problem clearly defined, the team should be able to devise appropriate solutions. In this process you will
Develop ways to tackle the problem
Identify alternatives and arriving at the ideal solution
Test the solution on paper or simulating it using AI tools
Consider scenarios in terms of maximizing efficiency, meeting customer needs, managing staff concerns and organizational policies etc.
Step 4: Putting the plan into effect
In the course of implementing your solutions you will,
List out all resources required to implement the project
Develop a critical path or change management plan for action and implementation
Ensure resources are available and they are efficiently used
Brief employees about the project to minimize resistance
Plan staff training needs
Step 5: Implementation and reporting
In the end you will implement the project and address the issues or any resultant outcomes. The sub-tasks that can arise here are Monitoring implementation
Presenting qualitative and quantitative metrics
Project review
Consolidating gains
Detailed reporting