It was June 2013, when Ramco HCM on Cloud was born as a standalone offering ready to be sold and marketed, across the globe. Within 4 years of its launch, today we hold the distinction of becoming the ONLY Asia Pacific based HR Vendor to have been positioned in Gartner's 2017 Magic Quadrant for Cloud Human Capital Management (HCM) Suites for Midmarket and Large Enterprises.
We owe this to the 450+ customers and 1000's of Users who have placed their TRUST on Us.
So, the question we set out to answer when we launched a comprehensive hire-to-retire application on Cloud was:
Can a nimble-footed David take on the Goliath's in HCM business?
To achieve this, we decided to focus on TWO pillars that will differentiate and give our clients the edge - Innovation & User Experience. The results have been fascinating and this entry into the Quadrant is an endorsement that we are heading in the right direction.
Well, what made us believe that we can give an edge over multiple other HR vendors in the market:
Ramco HCM is perhaps the only organically developed Integrated HR Suite that addresses end to end requirements from Employee Information Management to Payroll all on a single platform. This leaves the customer with a seamless experience across all modules. This is a unique differentiation as most vendors have built functionality through acquisition. In some instances, applications reside on multiple clouds, leaving the customer hassled.
Offering clients the Innovation edge with launch of HR Chatbots, Facial Recognition based Workforce Management, context-sensitive decision support pop-ups among others
RPA driven Multi-Country Global Payroll on ONE Platform – With Globalization, organizations grapple with need to address statutory and compliance across the local country of presence while adhering to global best practices. Ramco HCM with 40+ country Payroll on One platform helps unify Payroll operations all from a single screen.
Choice of deployment – On-premise, Public Cloud, Private Cloud, Hybrid – is Possible as the application is built on a single code base giving flexibility for enterprises to move from cloud to on-prem or vice-versa without much effort
Simplified Commercial Structure – An all-inclusive pricing which does not charge separately for DB / SQL Licenses, Dashboarding and Analytics, DR or Middleware licenses.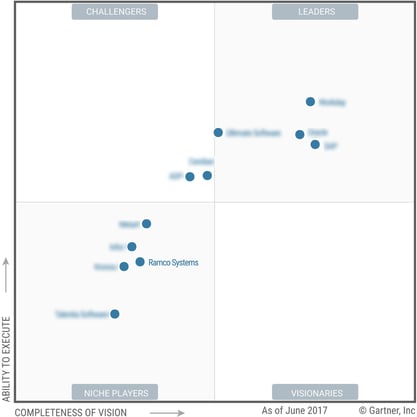 Looking for a HCM solution built to address not just the Fortune 500s but also those getting there? Drop us a note HERE.
Interested in grabbing a copy of the 2017 Gartner Magic Quadrant for Cloud HCM Suites: CLICK HERE.