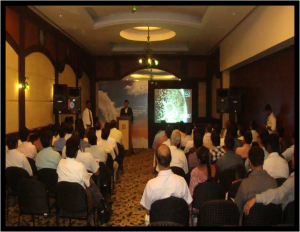 RODE 2.0 is the latest on our palette! Ramco Systems has been organizing a series of events as part of Cluster Series, to promote the planet's most powerful ERP on the cloud - Ramco OnDemand ERP 2.0 (RODE).
The first of these series of events for this year kickstarted in Chennai on the 18th of February where invitations were extended to potential users for ERP. Experts from Ramco Systems explained the benefits of managing all important processes using one powerful and reliable integrated solution. RODE is tightly packed with powerful functionalities, yet it is so simple to install and run that many of our customers opt for this technology and benefit from the Software–as-a-Service (SaaS) delivery model, and have gone live in just 7 days. RODE is designed to meet the needs of growing companies, and is based on the traditional Ramco ERP application, an industry-leading product. The event also included a product demo of RODE 2.0, testimonials from customers benefitted by RODE followed by a Q&A session.
RODE Cluster Series of events also took place in Mumbai, Coimbatore, Hyderabad and Aurangabad.
For more information and images, visit our profile on Facebook