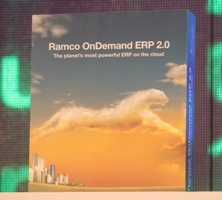 It's a house full at Shangri La hotel, Delhi today as we wait to witness the next leap in technology. Wondering what this technological leap is about? Well it's the launch of Ramco OnDemand ERP 2.0, an ERP implementation that is hosted on Cloud.
What it exactly means?
Well ERP- Enterprise Resource Planning until now was rigid and could be used mostly by big organizations because of the cost related with it. However, Ramco's innovation in this domain has given shape to an ERP that is hosted on Cloud, making it a flexible model that could be used by both big and small.
RODE 2.0 as they call it, was unveiled by Viswanathan Anand, World Chess Champion, who was the Chief Guest of the day.
Stay in to know more about the features of this revolutionary product.
For live tweets on Ramco OnDemand ERP 2.0, click here
Posted by: Garima Sinha
Manager, Corporate Communications