Recently I had decided to take a break from my daily routine. During this time I saw an example of how mobility can change the economics of IT. There was a big queue outside a small but well known eating joint (the wait was worth it though!!). To my astonishment, I saw the wait staff using their own smart phones and a simple app to take orders. The first thing that came to my mind was there was no need for the restaurant to buy an expensive mobile platform. Also there was no extensive training program that was provided to teach employees on how to use the software. Just download a free app and start working. What's interesting is that using mobile phones in a restaurant is not new; but utilizing the employees' own device is. People are using their own devices increasingly for work; and the concept, now known as Bring – Your – Own – Device (BYOD), is being considered across organizations. I would consider mobile phones as possibly the most useful invention of the last century coupled with the internet and companies like Microsoft and Apple which have enhanced the capabilities of mobile devices by many folds. Many organizations today find mobile initiatives popping up in every business unit, in every region and in every department. The floodgates have opened.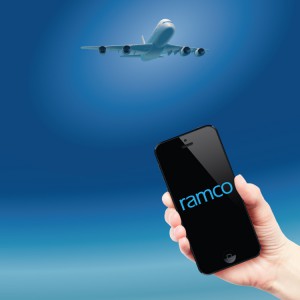 Many analysts have predicted that the number of mobile connections worldwide will top 10 billion by 2016. Thus there is significant business potential in enabling key business processes on mobile devices in order to improve the overall productivity, efficiency and prevent significant time and revenue losses. Time and cost benefits can be realized through better coordination, communication, on-time and proactive actions, client satisfaction and overall improved utilization of staff, assets and working capital. One needs to leverage mobility to enhance timely transaction handling and data collection as well as to access robust tools for management decision making, supported by the ERP systems.
The airline industry has accepted the mobility concept with open arms. But this transformation in approach has not been sudden. The industry is one of the most complex, heavily regulated, ever-changing, logistically demanding and profit challenging. With economic slowdown, airlines have started to look for areas to reduce costs and maximize productivity. This restructuring, coupled with the evolving industry trends supported by IT through ERP systems, has led to end-to-end technology integration. Mobilization in the airline industry will lead to automation of airline processes even further. Airline processes, especially those related to maintenance activities, are still enabled on desktops and very few are on hand held devices. This continues to remain the biggest challenge for ERP vendors; to implement the desktop features on mobile in a time bound and cost effective manner. Let's analyze some real time examples of airline processes, which will shed some light on the potential impact of mobility.
One of the main factors which decide the success of an airline is the maintenance of its aircrafts. This is where Line Maintenance Management plays a major role in making an aircraft technically sound so that it can run on schedule. Line maintenance activities are carried out aggressively with shorter time frames and shorter notice to ensure the fleet remains in service at maximum efficiency. However, even with a full shift, an organization can face several issues related to maintenance activities such as resource monitoring and management, tasks scheduling, ineffective communication and requisition process. Consider the scenario when an emergency situation arises and the line engineer requires a mechanic to fix the maintenance issue, but he doesn't know who is available. The line engineer would have to go all the way to the operation center to find the employee responsible for that particular task from the system. A situation may arise when the mechanic needs to order an aircraft spare part but he would not be able to do so until he reaches the operation center. These situations warrant the accessibility of real time data without having the need to go to the operation center and get it from desktops. Imagine the joy of a line engineer or mechanic if they are able to manage the above situations from their place of work.
Considering from an operational standpoint, 'Goods Receiving Process' forms an integral part for any store personnel. Once the goods are received by the receiving personnel they are sorted and kept in an inspection bay for the inspector to complete the inspection of the parts before they are binned in the warehouse. The inspector physically moves around the parts and records the inspection details, which in the absence of hand-held devices is done on inspection sheets, and the information is recorded in the software application before they are sent for binning. What if the inspector has a mobile device which is capable of performing the entire inspection related task without having to access to main application. The moment the inspector enters the inspection bay, the mobile app queues up the parts available for inspection. He can then record the details and intimate whether further processing like rejection or quarantining of goods is required. The mobile device can also help him print tags for labeling the goods. Life made so much easier for the inspector!!!
Software applications such as Ramco Aviation Series has efficiently mobilized many MRO processes for aircraft maintenance activities which are highly labor intensive and time critical. By facilitating online information access, integrated data management and automation, the airline industry can achieve high process efficiencies which would eventually lead to better customer satisfaction, shorter process cycle, lower cost of service and more importantly improved morale of the workforce.