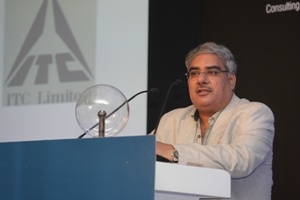 Sivakumar, ITC shares his experience of using Ramco ERP at the launch
S. Sivakumar,
Chief Executive - Agri Businesses
ITC
Made in India, RODE 2.0 launched last week in the capital city has fast got the recognition and is tagged as the product for the next generation. Calling it gen-next product during the launch event was Sivakumar, chief executive, ITC, Agri Business.
Sivakumar said, "Change is evident in everything that we do and agility and flexibility of companies has become very critical today. In this dynamic environment RODE 2.0 will fit in properly as ERP architecture".
Linking RODEs relevance to SME segment, Sivakumar stated that it will be highly beneficial for small and micro enterprises as now they can implement ERP without actually investing in it.
At ITC e-Chaupal, we required a flexible ERP system when we rolled it out and RODE gave us that flexibility. Requirements in business today changes every now and then and this is where the flexibility factor of RODE 2.0 becomes so critical.
Posted by: Garima Sinha
Manager, Corporate Communications