The cement industry has often been categorized as laggards when it comes to the adoption of digital technologies. But the benefits of digital technology, including revenue and other margin-impacting factors, are compelling the cement industry to consider harnessing the power of digital technology, more seriously.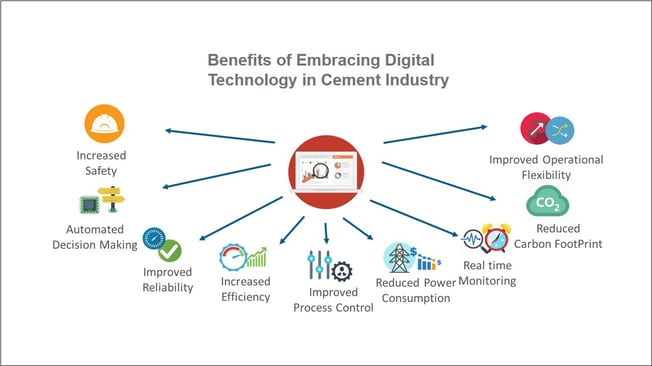 It is better late than never! For those cement and manufacturing companies that are contemplating undertaking the digital transformation journey, it is recommended that they experiment in a gradual, step-by-step manner. This would enable these organizations to achieve a better grip on their operations. It would also allow these companies to build up their resources for tackling the initiative in a better and more quantifiable way. Here are some important technology markers that can help you in this journey:
Automation - There is no doubt that automation serves to be the central nervous system for the entire cement factory. Automation is usually considered the brain that collects data from a network of sensors, instruments, and drive systems, which then puts this data to good use by automating cumbersome processes. The mere connection among all the factory equipment and other systems eliminates information silos on the shop floor - leading to a meaningful and valuable exchange of information across various departments.
Nowadays, cement companies are also looking at automation beyond their factories. A fine instance of this is AI-based automation for customer transactions, where services can be provided anytime, anywhere, and that too across messaging apps.
Automated Dealer Management System (DMS) is another tool that can help the cement industry professionals view outstanding orders, automatically book new orders, perform order follow-ups and pay online.
Equipment Monitoring & Predictive Maintenance - Using retro-fitted / factory-fitted sensors (any of the various types like Vibration, Light, Sound, DGA - Dissolved Gas Analysis, Viscosity, etc.), operators can instantly detect the source of their problem. This reduces inspection time and ordering time (in case of a part repair). In other words, the turnaround time (TAT) of faulty factory equipment is reduced, which leads to saved costs and time.
Predictive Quality & Process Control - Cement production is a straightforward process with 3 major phases - raw material crushing and grinding, baking this raw material, and grinding the baked output, known as clinker, to get cement. Though this process reads easy, a lot of parameters (like the speed of the mill, mill temperature, clinker feed temperature, grinding duration, etc.) make the process fairly complicated. Advanced predictive systems can be used to detect variability across these parameters. Cement companies typically use data obtained from their systems and processes to determine and assess cement quality and energy consumption. It will be useful if they can get hold of accurate data with the help of smart systems, which will help them to optimize their production operations.
Connected Logistics - In the cement industry, the raw material and the finished product are highly reactive (in terms of responding to atmospheric moisture, heat, impurities, etc.). The transport of these materials mostly happens via road using trucks. Having a comprehensive understanding of each product unit and the vehicle(s) that they are in is key to having control of your supply chain. Vehicle telematics solutions can help you monitor the location of each vehicle in your fleet, the payload carried by each vehicle, and the vitals of your crew members. They also offer help in routing vehicles to their destinations and interface with factory ERP systems to give ETA (and thus reduce the TAT of vehicles once they reach the factory gates).
Simulation(s) - Advanced simulator programs enable a realistic reconstruction of the behavior of a cement plant. Technologies like 'digital twin' offer virtual commissioning, operator training and allows you to monitor the plant behavior by changing the process parameters before launching into real production. For a typical cement company, all this translates to increased safety, reduced costs, and better overall efficiency. Such simulations also offer avenues for training the company's employees by replicating real-world problems and analyzing how various solution approaches to these problems differ.
To summarize, I would say a full-fledged 'Digitalization Suite' spans across all the areas of an organization – Marketing, Operations, Human Resources, Supply Chain, Logistics, Shopfloor, etc. Such a suite will enable true information connectivity and will reap several benefits as shown below.