"The heights by great men reached and kept were not attained by sudden flight, but they while their companions slept, were toiling upward in the night." – Henry Wadsworth Longfellow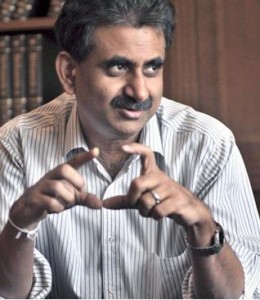 More than the destination, it is the journey that matters. In 1992, when Ramco Systems was started as a part of Ramco Industries with a capital of Rs 3 crore (less than $1 million), it was a time when services were getting slowly popular and the concept of R&D was unheard of in India. Today, the global income of the company for the financial year 2010-2011 is over $47 million. The path to entrepreneurship has not been simple or ordinary. Amidst the crests and troughs, the enriching experience, the knowledge procured and the perseverance to prevail are the aspects that have stood out in the bigger picture. It has been a dream-come-true for Mr. P. R. Venketrama Raja, our Vice Chairman, Managing Director & CEO, the man behind the company that has developed "The Planet's Most Powerful ERP on the Cloud".
In an exclusive interview to Rediff Online, he talks about realizing his dream by treading the road not taken, Ramco's growth into a successful, renowned ERP company that is a pioneer in cloud computing, overcoming the initial setbacks to get there, the importance of R&D, the future of the software industry and a lot more.
Click here to read the article on Rediff Online
To know more about Ramco Systems, visit www.ramco.com